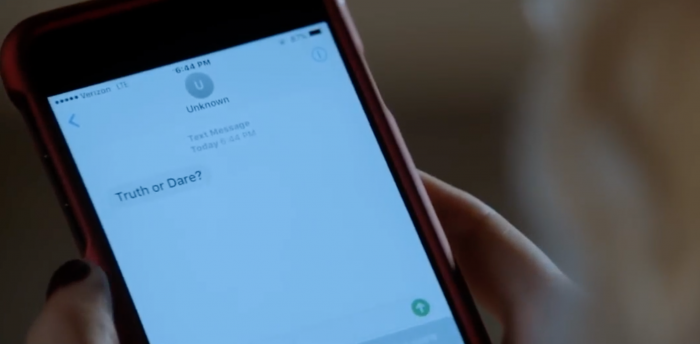 Lucy Hale is best known for playing Aria Montgomery in Pretty Little Liars. And it is as if she has never left that character because in Truth or Dare it looks like she has the same characteristics: beautiful of course, a kind of shy and mysterious at first and as always somehow in trouble.
"The producer of Happy Death Day and Get Out invites you to play", is stated on its poster. Truth or Dare is a Blumhouse production and was released on Friday, April 13th. However, there was a special screening on April 9th for students from San Francisco State University at Ua Twin Stonestown Cinema. The movie was directed by Jeff Wadlow, who also wrote and directed the superhero movie Kick-Ass 2 in 2013. Truth or Dare is all about the game, which turns deadly if you don't follow its rules.
Olivia (Lucy Hale) is a smart, hardworking student who lives with her best friends. Spring break is around the corner and Olivia's best friend Markie (Violett Beane) insists on going with her, Markie's handsome boyfriend Lucas (Tyler Posey) and their other friends to Mexico. Eventually Olivia decides to go with them, but after all, that might be her worst decision ever.
Once in Mexico, Olivia meets a guy named Carter (Landon Liboiron), who looks a lot like Harry Potter and he tells her that she could tell him either to piss off or have a drink together. Olivia chooses the last option. Suddenly, in a remote, old place up in the hills, Olivia, Carter and her friends are playing Truth or Dare.
Eventually, spring break comes to an end and the friends have to go back to normal life. What Olivia and her friends don't know, is that the evil game followed them all the way home. So back home, they start to see and hear strange and bizarre things.
The game is easy and has one simple rule: "Tell the truth, do your dare or die."
Let's forget about the game for a second and think about this: you're on a holiday, and you meet new friends. But after all, they are not who they said they would be. After watching this movie, this kept me thinking. Olivia and her friends didn't know Carter actually and yet they went up in the mountains to an old mission to play a game with this guy. It's ironic and scary at the same time. Really, you can't just trust somebody that easily. And also, why would you go all the way to an old place to play a game with a stranger? That doesn't make sense.
Truth or Dare fits best between the 'Final Destination' series and 'The Ring'. But it's less 'bloody' than Final Destination and less scary as The Ring. If you like such horror movies and Lucy Hale, then I would definitely recommend watching it. I personally don't think the movie was really scary, although I was sitting on the edge of my chair because of excitement. And also, I believe that the truths and dares in this movie could be worse and scarier, it was all a bit 'decent' in a way. But let's find out for yourself, whether you like the movie or not and post your thoughts in the comment section below!
Here's the trailer: